Mount Llullaillaco belongs to the holiest mountains of the Inca Empire. With its 6740 meters tallness it is one of the highest mountains in South America and also one of the highest volcanos worldwide. It is truly a dream destination but not easy to reach.
But in the beginning this tour will start calmly: La Paz, Muela de Diablo and some walking tours around Titicaca Lake will be our starting points for the acclimatization for Mount Llullaillaco. We walk across Isla de Sol, in Inka mythology their empire has its origin in this island. Across the Cumbre Pass to Coroico we can also find evidence of the indigenous people. Indeed Salar de Uyuni was here before civilization but also at volcano Tunupa we can find mummies.
???
(also dieser satz macht im Deutschen schon keinen Sinn. Aber wurscht einfach übersetzen hab ich mir gedacht).
Still higher is Mount Licancabur, a symmetric formed volcanic cone with a small crater lake and it is also a sacred mountain of the Inca. Here also some ruins and sacrificial offerings can be found. At the nearby Uturuncu this is not entirely sure but instead here it's possible to see yellow sulfurous vapors which escape from the crater. But most of the mummies were found at Llullaillaco itself, not less than three.
The tour
Our tour "Sacred Mountains of the Inca" will start in Bolivia, more precisely in La Paz the seat of the Bolivian government. The first destination for the day is the picturesque Mount Muela de Diablo before we continue our tour to the deep blue Titicaca Lake also known as South American Sea. By boat we are going to Isla de Sol, the origin of the Inca Empire, and after that we will ascend Mount Calvario and Cerro Ceroka.
Our next destination will be Uyuni, respectively the surrounding area of Uyuni. Salar de Uyuni, the world's largest salt lake may not be missed in the program as well as a visit to the numerous multicolored lagoons with its quantities of flamingos.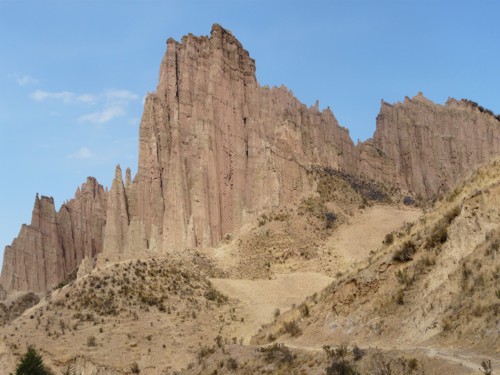 The tour is rounded off with hot springs, sparkling geysers and legendary volcanos like the multicolored 5205m tall Tunupa which offers an incomparable panoramic view. Here we can also find ancient mummies. With its 5919m obviously taller is the Licancabur the show-piece volcano
par excellence. Underneath the peak we can explore a crater lake and additionally semiderelict buildings of the Inca. Also human sacrifices had been taken place here. A real six-thousander, the Uturuncu, will be our next ambition. We can go high up on this mountain by car and from there we will be able to ascend its two high summits.
After crossing the Chilean border, coming from San Pedro de Atacama we will set about Mount Llullaillaco. In return for the long journey which isn't easy to find, the Conaf-refuge offers us a comfortable shelter.
From the high-camp, ascending over steep rock stones, we try to cope with Mount Llullaillaco. We drive back to Antofagasta and from there the return flights will leave.