Walking tour to Puya Raimondy plant in the Comnache National Park
Although this National Park can be reached from La Paz in a 3 hours drive, there are not much visitors. And yet this is the only place in Bolivia where you can see the huge Puya Raimondy bromeliad. The next possibility to look at this plant would be in Huaraz Peru.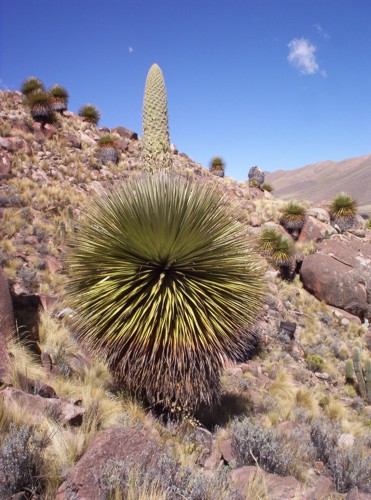 All plants are located directly above the town on a massive, granite rock hump, called Cerro Comanche. Locals say that this ridge must be a meteorite, because it is so clearly different from the reddish sandstone rocks that surround it. That is certainly debatable but in any case, additionally to the endangered Puya Raimondy bromeliad,several animals, such as eagles, viscachas, Andean foxes and storks can be admired at this unique place.
We walk from the main road directly to the Cerro Comanche and climb up by using interesting stone stairs. At this point we will have a great panoramic view of the Cordillera Real. We can completely climb to the stony head of the mountain, but the last 100 meters are pathless.
Dates: Tours can be started daily on request
Prices:
1 Person 100 Euros

2 Persons 60 Euros

4 or more persons 50 Euros