Maria Lloco (5000m) in the Cordillera Real
In front of the dominating Huayna Potosí, there is another impressive mountain massif which is adorned by a respectable ice wall. With a height of "only" 5522 m, Cerro Maria Lloco indeed is in Huayna Potosi´s shadow, but at close range the mountain looks fantastic. Needless to say that the panoramic view from Maria Lloco is also something special, surely not only for those who want to enjoy Huayna Potosi from a short distance.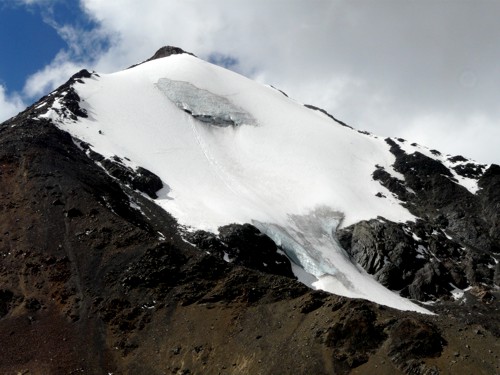 The ascent of mount Maria Lloco isn't too difficult, but steep and exhausting. But the lovely landscape during the whole tour is absolutely worth the effort!
Walking time: 7 hours
Starting point: High Valley near Tuni
Altitude difference: approx. 700 m
Dates: anytime, on request
Price: from 50 euros
Requirements: In the upper part, a short, moderate ascent leads through a frozen surface without gaps. But crampons, ice axes and a rope are recommended. Slippery and very steep debris-covered areas below the glacier must be climbed. A good physical condition and sure-footedness are absolutely necessary. However, no real technical challenges are waiting for you.