Japa Japani (5000m), also known as Doublehorn, in the Hampaturi mountain range
The Cerro Japa Japani or Doublehorn belongs to the quite unknown but also to the most interesting high summits of Bolivia. It offers an incomparable panoramic view of Cerro Sajama, Lake Titicaca and the wide area of the Cordillera Real. Furthermore, breathtaking views of El Alto´s sea of houses and the high-rise buildings of La Paz will surely impress you. Palkoma Valley is one of Bolivia´s most beautiful valleys and it is richly blessed by nature with its Lakes, Canyons and Cascades.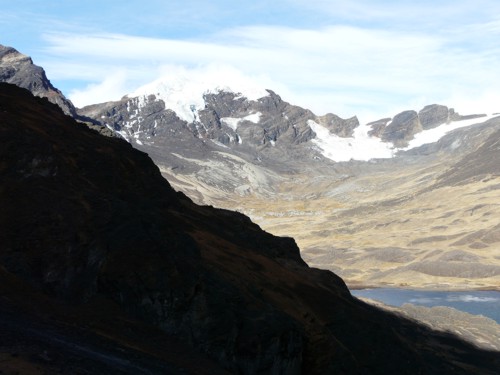 Walking time: 5-7 hours
Starting point: Ajua Khota reservoir (4400m)
Altitude difference: approx. 1000m
Prices:
1 Person: 100 Euros

2 Persons: 60 Euros

4 or more persons: 50 Euros
Requirements: Long and exhausting hike on a magnificent summit lookout. The ascent leads partially through pathless debris areas and short, easy rock passages. Sure-footedness and a good head for heights are indispensable for a hiking in this mountain. Because of the mountain's height, only sufficiently fit and acclimatized mountaineers should start this tour.