The at least 5392 meters tall Cerro Charkini is definitely one of the most eye-catching high summits of the Cordillera Real. Its glaciation is remarkable, too. Nevertheless, this well-shaped Andean giant is surprisingly easy to ascend. Its tame north face is suitable for those who would like to gain first experiences with crampons. Fortunately, this mountain is situated in the middle of the Cordillera Real and can be reached quickly from La Paz.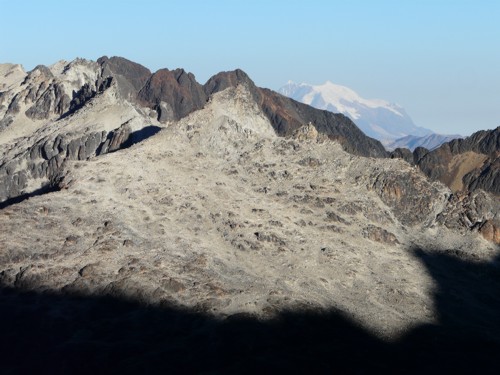 Walking time: 5 - 6 hours
Starting point: Zongo - hut (4700m)
Altitude difference: approx. 700 m
Dates: anytime, on request
Price: from 60 Euros
Requirements: The hike is rising moderately and nearly without crevasse. But crampons, ice axes and a rope are recommended. The last part of the hike requires sure-footedness and experiences in finding the right trail.