Tour information
Time to walk: 5-6 hours
Starting point: Cumbre Coroico Passhoehe
Altitude difference: Approx. 700 m.
Requirements
Steep icy flanks between 40 and 50 degrees. Alpinist knowledge and a good handling with crampons are preconditions for this tour.
Dates and prices
Dates: anytime, on request
Price: 1 Person 100 Euro, from 2 Persons on: 50 Euro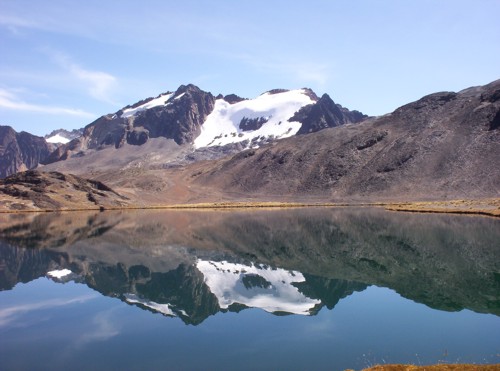 While crossing the Cumbre Pass to Coroico the Wila Maquilizani is all but omnipresent. Its shiny white icy flank directly catches your eye during the bus trip or the lake round trip. A fantastic trip for experienced mountinerees, it isn't too difficult but offers beautiful, totally untouched nature. Also appropriate for acclimatization or first experiences on ice.
Description:
Early in the morning we drive from La Paz to the Cumbre Pass by car and approach the pass above a bumpy trail towards the mountain. Now we have to manage a slight up and down through a debris area. Soon this is over and we have to fasten our crampons, in the best case before sunrise in order to catch the best ice conditions. Now we carry on uphill, on a wonderful compact firn we advance very well. After having managed 100 height meters we finally reach the view full saddle from where on we can approach the summit. Also this we reach soon and here we enjoy a terrific view on to the ice giants of the king cordillera. The image is dominated by the symmetric trapeze of the Huayna Potosi, but also its neighbor the Cerro Charkini and the enormous Tiquimani leave a strong mark. The Serkhe Khollo departs more and more, the Mururata and Illimanica can still be seen. On the right wall side we find a less steep descend that easily leads us to our starting point. We take a rest at on of the numerous mountain lakes and drive back to La Paz.